GoodFirms Acknowledges KOTELOV's Potentials to Augment their Client's Teams Significantly
Software development companies and service providers look for experienced, talented, and creative professionals to charge up their projects with speed and quality. Sometimes, fresh talents also make an excellent move to take a project to its expected outcome. Hence, IT staff augmentation comes significantly into the context.
KOTELOV – one of the leading software development and IT services providing companies explicitly works to assist tech businesses with providing quality development services and IT staff that helps meet their tech requirements significantly.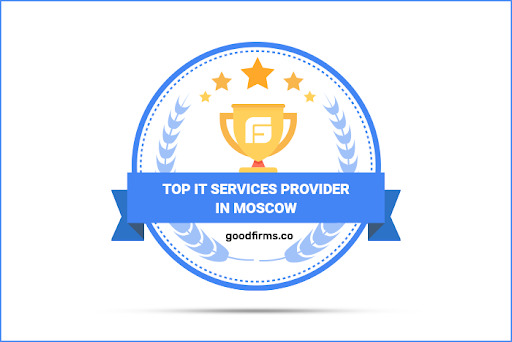 Based in Moscow, Russia, KOTELOV was invented in 2011 by Valeriy Kotelov – the CEO, who started IT outsourcing from 1 project and has taken the company to a strength of 80+ employees working from 4 different locations globally. KOTELOV has been the trusted and reputed technology partner to all types and sizes of businesses. Startups, SMBs, and even Fortune 500 companies from the Eastern European market are associated with it for its world-class tech augmentation services.
Top-Rated IT Services Offered at KOTELOV
KOTELOV is a growing name in the field of custom software development. The company designs, develops, tests, deploys, and maintains purposely-built software programs and solutions for their specific set of users. These software products and services help meet website creation's generalized needs and enhance office productivity.

The company excellently takes up the process of robust mobile app development for most devices, such as smartphones, tablets, and digital assistants. They always focus on implementing new features and functionalities based on their client's requests and prevailing trends in the market.
KOTELOV offers a flexible and creative solution to enhance the number of resources in a dedicated team to increase its capacity to work. This way, the company helps its partner businesses and clients reduce operating costs and maintain productivity as much as possible.
KOTELOV is a Leader in Global IT Staff Augmentation
KOTELOV leads among the top IT outsourcing services provider in Moscow, as GoodFirms suggests. It facilitates the companies using augmented team members in the form of outside personnel temporarily to help accomplish their existing projects. The company follows a principle that accounts for its HR and outstaffing strategy to benefit its clients' businesses.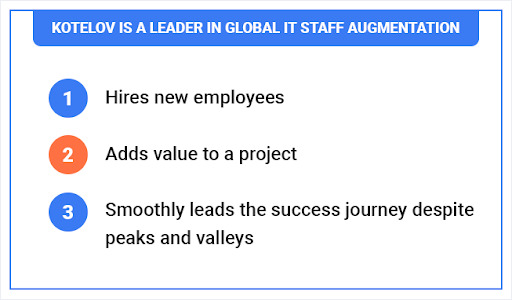 Every company customer receives a team working on their projects and attaining their 100% involvement.
The company promises to provide a solution with the least formalism and maximum possible output.
The company resolves digital business problems using advanced technology stacks and their exclusive design abilities.
The company builds customer relationships based on trust, respect, and responsibility.
A group of companies appreciating their partnership with the company on a long-term basis are listed below.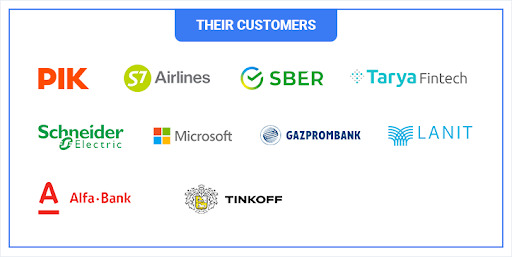 Positive client testimonials prove that the company is working hard in all genres and treating its employees best to maintain long-term relationships with their customers.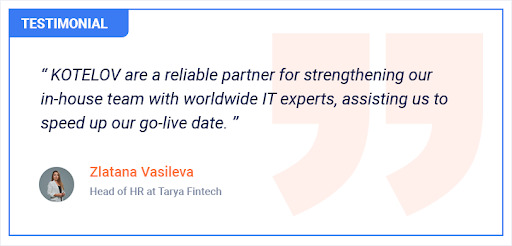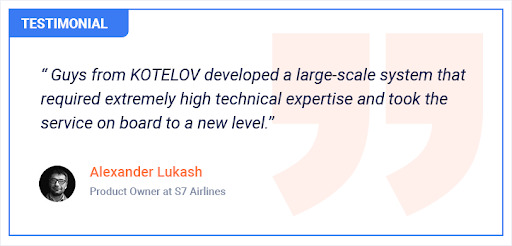 GoodFirms Research Methodology
GoodFirms enlarges the growth picture for the number of companies and services providers registered by allowing them to choose the best partner. GoodFirms – a leading review and rating company, ensures that their partner companies make perfect business decisions by getting insight by observing over 60,000 client reviews accumulated at the portal.
Conclusion
KOTELOV is an experienced and innovative software development company with hands-on experience in IT staff augmentation and other HR practices that are helpful to implement for the betterment of their client businesses. The company shows significant signs of improvement and is leading to success gradually to achieve its predetermined goals and objectives.
About GoodFirms
Washington, D.C. based GoodFirms is a reputed B2B research and reviews firm that aligns its efforts in finding web development and web design service agencies delivering unparalleled services to its clients. GoodFirms' extensive research process ranks the companies, boosts their online reputation, and helps service seekers pick the right technology partner that meets their business needs.
About the Author
Prepared by Anna Stark, a Content Writer at GoodFirms, who bridges the gap between service seekers and service providers. Anna's dominant role lingers to form every company's achievement and critical attributes into words. She strongly believes in the charm of words and equips new approaches that work, always with concepts.